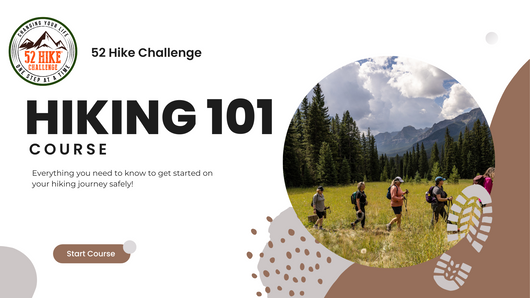 52 Hike Challenge Hiking 101 Course
Regular price $19.99 Sale
Are you ready to make the outdoors a part of your life?
We're here to teach you everything you need to know to get started - from gear to safety. Please note, this course is hosted on Teachable, a different platform. You will be emailed instructions on accessing the course after you checkout. 
In this 3+hour course you'll learn:
The 10 Essentials You Need To Carry When Hiking
Hiking Clothing and Gear You Need To Get Started
How to Planning & Find Hikes
How to Use AllTrails
Winter Hiking Considerations
Summer Hiking Considerations
Safety Tips
Footwear
Leave No Trace Basics
And More!
Curriculum Outline
Introduction & Welcome
Welcome, How It Works, and FAQ's (5:10)

52HikeChallenge.com Website Walkthrough (7:09)
How You Can Get Started & What to Know Before Your First Hike
The 10 Essentials (8:04)

Packing Your Daypack (3:08)

Hydration (1:34)

Food & Snacks (2:54)

Test Out Gear Before You Go (1:10)
Essential Clothing & Gear
Gear Intro (0:51)

Hiking Clothing (10:32)

Rain Jacket (1:01)

Layering System (2:11)

Daypack (2:27)

Hiking Footwear (5:47)

Hiking Socks (1:45)

Gear Costs (2:36)
Caring For & Cleaning Your Gear
Gear Care & Cleaning (2:23)
Other Essentials
Trekking Poles (1:00)

Insoles (1:38)

Personal Trash / Potty Bag (1:29)

Water Purification / Emergency Filter (0:58)

Bugs (1:08)

Blistercare (0:41)

Poisonous Plant Care (0:49)

Hiking Books (0:37)

Eyewear Retainers (0:36)

Gaiters (1:12)
Finding Hiking Buddies
Finding Hiking Buddies (3:37)
Planning & Tracking Your Hikes
Intro & Agenda (0:11)

Defining A Hike (3:05)

Pace (1:46)

Elevation & Topo Maps (4:41)

Picking A Hike (3:51)

How to Use the AllTrails App (9:50)

Research (9:17)

Other Tips (5:39)

Parking, Park Fees, and Road Conditions (3:00)

Transportation (1:27)

Tracking Your Hikes (4:29)
Map & Compass
An Introduction to Map & Compass (15:28)
Education
A Note on Education (3:59)

Leave No Trace Awareness Course (0:55)

Footcare (3:55)
Safety
Know Before You Go (2:00)

Wildlife & Animal Encounter (2:12)

Weather (3:05)

Going Solo (2:58)

General Hiking Safety Tips (1:50)

More Hiking Safety Tips (2:26)
Self Care: Pre-hike, During Hike and Post-hike
Setting Yourself Up For Success (4:22)

Stretching For Hiking (18:35)

Accountability (1:43)

Organization Before Hiking (1:25)

Time Management (2:11)

Building Confidence (2:48)

Rest Breaks When Hiking (1:18)

Summit Fever & Ego in Hiking (3:40)
Leave No Trace & Recreating Responsibly
How to Be an Awesome Trail Visitor (1:03)

Leave No Trace Principles (14:29)

Hiking With Your Pet(s) (2:53)

Recreate Responsibly Guidelines (3:23)
Winter Hiking
Winter Hiking Clothing (9:01)

Snow Daypacks (1:21)

Winter Hiking Footwear (1:45)

Microspikes & Snowshoes (1:32)

Crampons & Ice Axe (1:00)

Gaiters, Sunglasses & Trekking Poles (1:45)

Hand & Foot Warmers (0:40)

Winter Hiking Education (0:44)

Importance of GPS (0:44)

Hydration & Nutrition (1:19)

Hypothermia & Frostbite (2:16)

Winter Hiking General Tips (3:48)
Summer Hiking
Summer Hiking Intro (0:14)

Summer Hiking General Tips (2:03)

Hydration in Hot / Summer Conditions (1:57)

Summer Hiking Clothing and Gear (2:39)

Hiking With Pets In The Summer (0:32)

Heat Exhaustion & Heat Stroke (1:29)
In Closing